The Association of Nigerian Student Authors (ANSA) have concluded plans to introduce financial rewards for winners of her weekly literary contests effective from January 2019.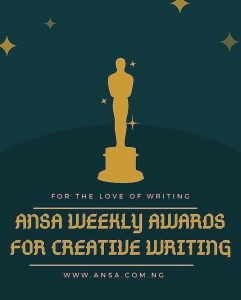 Revealing this development to newsmen at a briefing in Lokoja, the National President of the rave-making organization Dr. Kennedy O. Obohwemu lamented the fact that writers get too little compensation for their efforts.
"We need to fashion out a way to reward authors," the multiple international award-winning Nigerian writer said. "Shall we compare what writers make from their publications to what musicians, actors and entertainers earn on daily basis? Frankly, nobody cares about the author. We must begin to care for ourselves!
"At ANSA, we've worked out a unique way to compensate our young aspiring authors in a bid to motivate their endearing spirit. It's extremely difficult getting sponsors for things like these, so we must look inwards."
Dr. Kennedy revealed that the following literary contests are available to members for participation on weekly basis:
1. Poet of the Week Contest
2. Poetry Collabo of the Week Contest
3. Flash Fiction Writer of the Week Contest
4. Flash Fiction Collabo of the Week Contest
5. Short Story Writer of the Week Contest
6. Short Story Collabo of the Week Contest
7. Children's Literature Writer of the Week Contest
8. Children's Literature Collabo of the Week Contest
9. Playwright of the Week Contest
10. Drama Collabo of the Week Contest
11. Quote of the Week Contest
12. Literary Critic of the Week Contest
13. Reporter of the Week Contest.
14. Non-Fiction Writer of the Week Contest
15. Non-Fiction Collabo of the Week Contest.
Each contest above attracts a monthly prize of N2,000. For the 15 categories, that translates to N30,000 monthly!
In addition to the above literary prizes, an extra monthly token of N1,000 shall be given to members who fulfil the following criteria:
1. have the highest number of monthly award nominations;
2. have the highest number of monthly award wins;
3. have the highest number of social media engagements (i.e., members whose literary works on the website have the highest number of likes, comments and shares).
That's an extra N3,000, bringing the total monthly sum to N33,000!
Effectively, ANSA would be giving out a total sum of three hundred and ninety six thousand naira (N396,000) in literary prize money annually!
So if you are an active member of ANSA and you win 2 or 3 of our literary contests, you can be guaranteed at least N5,000 free money every single month!
Since there are a total of 15-18 award categories available every month, winning just 2 or 3 shouldn't be a problem for active members.
To be guaranteed a monthly prize, you need to win the highest number of weekly literary contests.
Note that the lump sum mentioned for the above literary contests does not include the prize money given out for the regular ANSA Literary Fun Games (where members mark special holidays, birthdays and anniversaries with fun-filled literary contests). One was held on New Year's Day and another on January 6 in celebration of the birthday of ANSA's National Vice President, Christiana Iye Matthew.
For each ANSA Literary Fun Game, the organization dishes out a minimum of N2,250. Multiply that by the number of special holidays (and birthdays) we have in a calender year, you'll realise just how much money you can make for yourself by being actively involved in ANSA!
"Putting it all together, ANSA will be given out at least five hundred thousand naira in literary prize money on annual basis," Dr. Kennedy confirmed. "With active sponsorship, this amount is sure to increase. Let's keep hope alive!"
So don't let your creativity go to waste. Right from the comfort of your home or office, wherever you may be, you can get yourself extra income by been actively involved in ANSA's daily literary activities.
What on earth are you waiting for? Get your writing pads and do what you know how to do best – WRITE!!!
ANSA… for the love of writing
Visit us at www.ansa.com.ng