---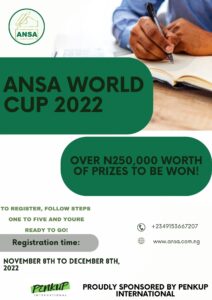 THE ANSA WORLD CUP: WIN N250,000 IN CASH PRIZES!!!
The Association of Nigerian Student Authors (ANSA) in collaboration with the National Association of Young Authors (NAYA) and the Global Association of Young Authors (GAYA) are calling for entries in the 2022 ANSA World Cup.
Billed as the most seismic battle of wits in modern literature, staged in the 21st century's grandest and most compelling literary theatre, the ANSA World Cup offers young writers from across the globe the opportunity to showcase their writing skills and get rewarded for doing what they know how to do best.
N250,000 up for grabs! Yes, you got that right… Two hundred and Fifty thousand naira!!!
2022 ANSA World Cup: A Battle Like No Other:
"It is the unique nature of ANSA to help us see in ourselves our latent gifts and abilities, our talents just beneath the surface of our consciousness, hovering about among our hopes and dreams, our aspirations and our heartfelt wishes. We want young aspiring writers to cherish these moments, for they are real and pure." – Dr. Kennedy O. Obohwemu (ANSA Founder, Emeritus President & Life Patron & Board Chair)
"Learning the magic of writing takes discipline, alongside the exploration of your muse. In order to write brilliantly, you have to equip yourself with the habit of learning, consistent writing, editing and rewriting. This is a habit that ANSA harnesses cleverly, making sure to probe into innate talents, and in the process producing equisite young writers." – Maymunah Kadiri (ANSA National President)
HOW TO PARTICIPATE AND WIN EVEN MORE PRIZES
1. Register as a member of ANSA at www.ansa.com.ng (registration is absolutely free)
2. Subscribe to our YouTube channel:
https://YouTube.com/c/penkup
3. Follow our other social media channels:
Twitter: @ansa_nigeria @penkup_stores
Facebook: https://m.facebook.com/ansa.com.ng https://facebook.com/penkup.stores*
Instagram:
@ansa_nigeria
@penkup.stores
4. Make a short video introducing yourself to us. Tell us why you want to participate in this contest and how far you think you can go. You don't need to be tech savvy… Just use your phone camera and talk to us!
Video should be less than 30 seconds, ending with the words, "ANSA… for the love of writing".
5. Send us this video and we'll post it on our YouTube channel.
Take steps 1-5 above and you'll automatically qualify for the competition.
Registration Time: NOVEMBER 8TH TO DECEMBER 8TH
Are you ready? Join the group chat to get started:
https://chat.whatsapp.com/JQBhaY5RIj14c7R1ai91Xp
To win extra prizes even before the competition begins, follow the steps below:
1. Share your video (YouTube link will be provided) with friends, family, and everyone you know.
2. Participants with the most engaging videos (likes, comments, shares, etc) will win a cash prize of N10,000 guaranteed.
We're all winners at ANSA. Let's help you discover the fun in writing!
ANSA… for the love of writing
Proudly sponsored by PENKUP FOUNDATION.