Eneye Lawal is a budding poet. He hails from Okene Local Government Area of Kogi State, Nigeria.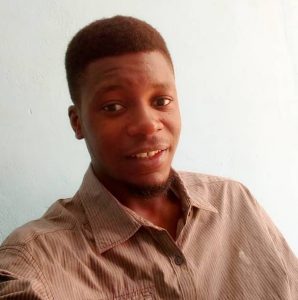 Eneye obtained his O level's in the year 2014 at Total Child Model Schools, Dutsen Makaranta, Abuja. He moved on to Kogi State University, Anyigba where he studied English and Literary Studies. He graduated in the year 2019.
He is currently awaiting the clarion call to serve his beloved country through the National Youth Service Scheme (NYSC).
He began writing poetry during his sophomore years in the university. During his undergraduate days, he was a member of a literary forum called Night of Discourse and Literary Criticism, and so during meeting days, he would listen to other members of the forum present their works. He was occasionally involved in critiquing some of the poems posted in the virtual group. It was during one of the sessions that it dawned on him that he too could write, a challenge he readily accepted.
He tried his hands at poetry, prose and drama, and not so long after that, he began presenting in the platform. Because of his writing prowess, he became one of the anchors of the group.
He has quite a number of poems to his credit. He writes many genres of poetry, from dramatic poetry to ode to couplets to satire.
Recently, he embarked on a 100 days poetry project, which ended on the 17th of June, 2019. During the 100 days, he wrote and uploaded a poem daily to online literary platforms, ANSA being one of them. The project soon became a literary challenge in ANSA, where other members were encouraged to participate. ANSA has since extended the initiative to include other forms of literature like prose (fiction and non-fiction), drama and children's literature.
By initiating and successfully completing the #ANSA100DaysPoetryChallenge, Eneye enjoys legendary status in ANSA. He has been nominated for induction into the organisation's Hall of Fame. He is also a worthy recipient of the prestigious ANSA's Goodwill Ambassador Award.
Eneye is an active member of the Association of Nigerian Student Authors (ANSA) and also a member of the Association of Nigerian Authors (ANA), Kogi State Chapter. He serves as a part of ANSA's team of literary critiques and at a point served as a resource person during one of the organisation's trademark series, Poetry Circus.
Writing, for Eneye, is making sketches of the world around him, presenting the voices in the market place in the language of the market square.
Eneye currently works in his Alma mater, where he teaches English Language and Literature.
Warm hearty cheers to a budding author, Lawal Eneye.