The shortlist for last week's ANSA AWARDS FOR CREATIVE WRITING (MAY 2020, Week 3) is shown below, in the respective categories: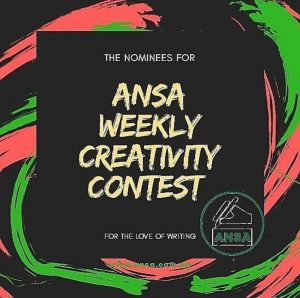 ANSA Poet of the Week Awards
The nominees are:
1. Jennifer Okorie for her poem, Live your life
2. Precious Ndidi for her poem, Just let go
3. Babatunde Phemmy for his poem, Let him go
4. Musa Oyiza Rahama for her poem, The deceased mind
ANSA Poetry Collabo of the Week Award
The nominees are:
1. Musa Oyiza Rahama & Emmanuel Adefisayo first their poem, Unrequited love
2. Vivian Omolade & Joy Omonigho for their poem, Stop blaming love
3. Chuka Nwosu & Nonso Ohamezie for their poem, Move on with your life
ANSA Flash Fiction Writer of the Week Award
The nominees are:
1. Nonso Ohamezie for his entry, Human nature
2. Ella Okosun for her entry, Who are you to judge?
3. Emmanuella Okon for her entry, Search yourself
4. Fatima Hassan for her entry, Love knocks you down
Who gets our ANSA Medal of Honour?
🏆🥇🥈🥉🏅🎖🏵🎗The winners will be announced shortly.
Congrats to all nominees!
For enquiries, suggestions or complaints, please email us at:
ANSA… for the love of writing